Overpass OWB(outside the waistband) Holster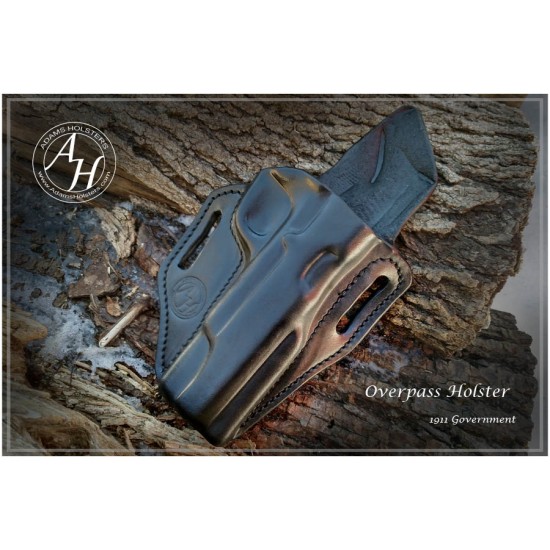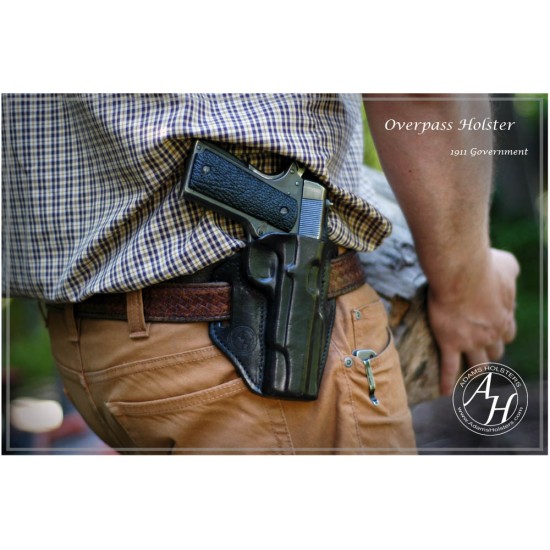 My Overpass Holster has allot in common shape and design wise with my Crossroads Holster that I designed back in 2010. However there are some significant differences so I decided to bring it out as it's own holster. This design is a high ride holster, with slightly less cant than my Crossroads and flat back construction. The flat back is the biggest change because it allows the overall platform to be much skinnier in width. Combined with the higher ride and everything else, it carries best right around 3 o'clock or right on the point of the hip. Of course you can carry it further behind but that's where it's most comfortable for me.

Another aspect of the flat back which guys who wear my Texas holster are familiar with, they tend to hug the body. The pressure is more evenly applied to the hip compared to say my Crossroads Holster. But in applying less pressure it also tends to be more of a lump on the hip with less transition(the flow of the waist line). So it doesn't conceal quite as well but it's quite comfortable, and the higher ride makes it conceal slightly better in that sense.

It is a higher riding platform, which means you don't need as long of a shirt to conceal, but it also means it puts the weight of the gun higher on the belt. So a good solid gunbelt is very important for this holster, more so than my Crossroads. That said a good gunbelt is crucial in my opinion for the comfort of most holsters so it's something to keep in mind. But any high ride holster will put more weight higher and put more abuse on the belt and require a heavy good gunbelt.
The name for those who are curious comes from the fact that it has origin in the Crossroads, but since it's flat back it creates an Arch to the rear shape of the holster. Overpass's are arched and above the road, since this is a high ride rig it's above the Crossroads. So that's the crazy reason behind the name of this particular holster.
Overpass OWB(outside the waistband) Holster
Supporting Small Business
We are a single family business with everything built in house.
Excellent Customer Service
All communications go through me the owner and maker of the holsters.
Artisan Quality
Each holster is individually made from the best materials by hand.