Siesta IWB(inside the waistband) Holster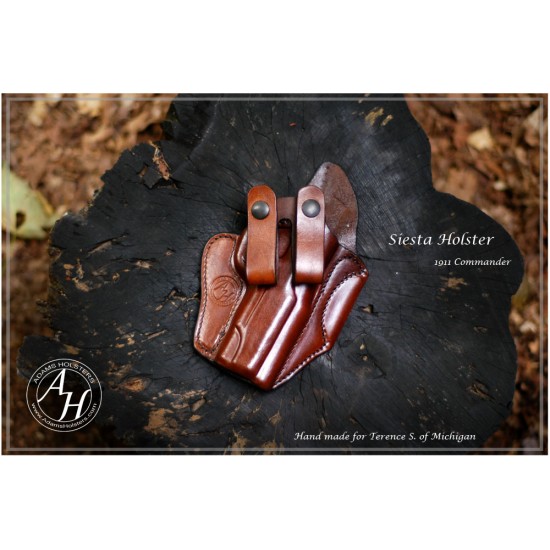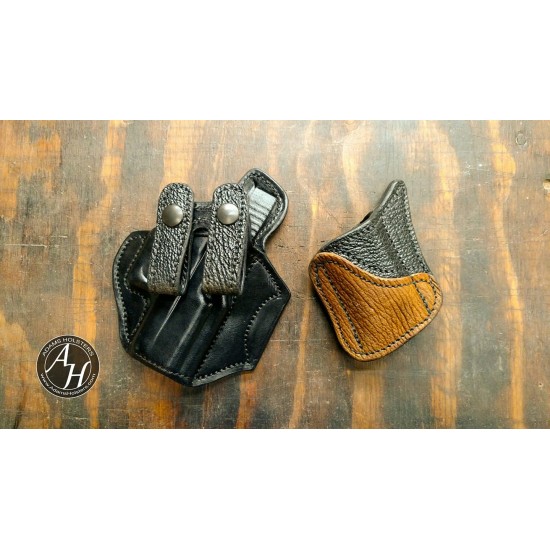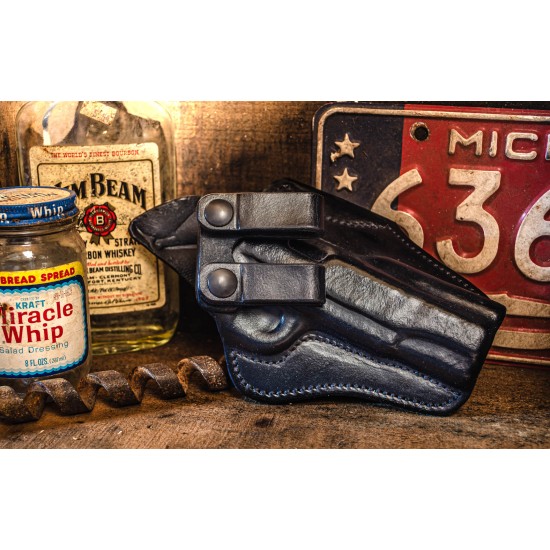 New for 2018 my Siesta IWB Holster, this is something that I've been wanting to come up with a good solution for since almost the beginning. A fairly slim, leather loop attachment holster that is still comfortable. This design has it's roots in the Bruce Nelson Summer Special design, with a heavy dose of my Original Texas holster. Functionally from the rear it's a Texas holster with the edges cut off, but front side is more of a summer special.

The loops are removable and replaceable in the event you ever have a failure of a snap or the loops themselves. Or even some thing as simple as changing the width of the belt, you can buy another set of loops to accommodate another size. Another perk to the modular loops is if you want to dress up a holster you can purchase a set of exotic loops separately and add them to an existing holster. I will at a later date offer fixed loop options and a few other variations I have planned.

Comfort, this holster rivals my Texas holster for comfort, it doesn't conceal quite as well. The reason is purely the loops themselves, they are thicker than clips and stacked on top of the gun. There isn't any way to change that fact so it's a byproduct of this type of holster. However it's very comfortable, easy on and off and a good secure mount to the belt. And when I say it doesn't conceal as well I just mean that the loop can print a little, it's not much, it's better than many holsters on the market but the Texas holster is honestly a VERY concealable holster. So this being a slight bit less concealable is still a pretty minor factor.

I offer hard action snaps by default on the holster, though I'm happy to build them with one way snaps or you can buy an extra set of loops for both. Hard action snaps are a normal snap like you'd find on any other common item, but with a very stiff "action" which is what I personally prefer for my own holsters. I haven't had any issues with them coming undone in my day to day use, but that decision is up to you guys on what you prefer. For those not familiar with one way snaps, you snap them by hooking the bottom of the female portion of the snap under the edge of the male portion and rock upward to close them. The advantage to a one way snap is they can't become unsnapped from the bottom, only from the top. They are often used for that purpose on allot of gear. I personally feel they tend to be weaker unsnapping from the top, making them slightly more prone to being unsnapped by catching on things than a good "hard action" snap. I do use USA made DOT fasteners for all of my holsters whether it's their hard action snaps or their one way snaps.
Siesta IWB(inside the waistband) Holster
Supporting Small Business
We are a single family business with everything built in house.
Excellent Customer Service
All communications go through me the owner and maker of the holsters.
Artisan Quality
Each holster is individually made from the best materials by hand.